Hello and welcome to another new theme here at Wonder Kids, make sure you take a couple of minutes to try some of the ideas we have linked to below or try using the search bar for finding brilliant activities you can use at home or at a birthday party.
This time we are going to explore Beatrix Potters Peter Rabbit. This is an English classic that many children have as one of their first books made modern and more popular by the hit movie which I thought was brilliant and a great modern adaptation.
we are based in Gloucester where you can find a Beatrix Potter Museum. It focuses on her story "The Tailor of Gloucester" but features loads more than just that. It's just a 20 min walk from our house and its absolutely brilliant. I highly recommend a visit if you are ever near by. It's also next door to the amazing Gloucester Cathedral. This week we are going to share some brilliant Peter Rabbit crafts, games, party ideas and great fun recipes too.
Lets get started.
Bunny Photo Booth Prop
These simple little masks make brilliant props for a Photo Booth or just lots of fun to use when taking pics with your smartphone. Go out to a field and take pics of the kids hiding in log grass or next to flower beds.
You'll need:
Popsicle Sticks

Paint

White Card

1 inch White Pom Poms

Mini Pink Pom Poms

White Pipe Cleaners

Glue

Scissors

Black Sharpie
1 – If you already have coloured popsicle sticks then you can use them to mask your bunny nose mask but we had plain ones so we painted them in bright and cheerful pastel colours.
2 – To make the bunny's whiskers we cut two white pipe cleaners into three equal lengths. Then we glued them onto the top of the popsicle stick fanning them out a little.
3 – To make the teeth for the bunny mask we drew them onto card with a black Sharpie.
4 – We used a dab of glue to attach them over the lower whiskers leaving a little space above.
5 – We made the cheeks for our rabbit mask out of two white 1 inch pom poms. We glued them onto the whiskers slightly overlapping the teeth. We finished off our cute bunny nose mask by gluing on a mini pink pom pom.
Easy Bunny Stamps
These are super easy and fun to use, make easter cards, Peter rabbit cards or just loads of great bunnies on a big piece of art.
3X Toilet Roll Middles

Paint

Paper/Card

Glue Dots/Double Sided Tape

Felt Tip Pens
Start by folding/pushing two of your toilet roll middles to a point to make the Bunny ears.
Leave the third toilet roll middle as a circle.
Attach the ears to the head using glue dots, PVA, or double sided tape.
Make sure the toilet rolls are at the same level and even so that if you were to put them onto paper all three would touch at the same time.
Set up your paint, I set Amelia up with various pastel colours to stick with the Easter theme. I love how the white came out on the coloured card too.
Get stamping, I found using a bit of kitchen roll removed any excess paint when Amelia wanted to swap colours.
Using your felt tip draw on some bunny faces, you could use paint but as it was a small space Amelia found this quite tricky so we opted for the pens.
Decorate your bunny scene some more with grass and flowers and then you are finished!
Bunny Ears Hat
This super simple project can be made in just a couple of minutes. First you will need the free download template, just click on the pic opposite for that.
Cut out the free templates, just print as many as you need. Now you will need to glue the headband together. its a good idea to wrap this around the wearer's head to make sure a good fit. You don't want it too tight or too loose. Trim and glue the ends of the headband together. Now you just need to glue the ears onto the headband and you are all set. This makes a great pic of all the kids around a table eating party food with their bunny ears on.
Games
Let's move onto some great games that you can play at home or for a birthday party. First up is guess howe many bunny tails. You'll need a large see through jar or container. the bigger the container the tougher this game is. Use little cotton wool balls as the "bunny tails". This is a great thing to get the kids to do as they come into a party and announce the winner at the end of the party.
Pass the Carrot
Get the kids standing or sitting in a circle, give one child a carrot, if you have more than 20 kids try using two carrots instead. Play some music and the kids need to pass the carrot/s. When the music stops whoever is holding a carrot comes out of the circle and can be in charge of the music and or a judge for the next round. It keeps going until you have one child left not holding a carrot who is the winner.
Bunny Hop Race
This is a brilliant take on a sack race, you will need some burlap sacks which you can decorate with a large white pom pom glued to the back of them. You can make this just a straight race, a relay race with teams or have them hop around chairs or cones to turn it into more of an obstacle course.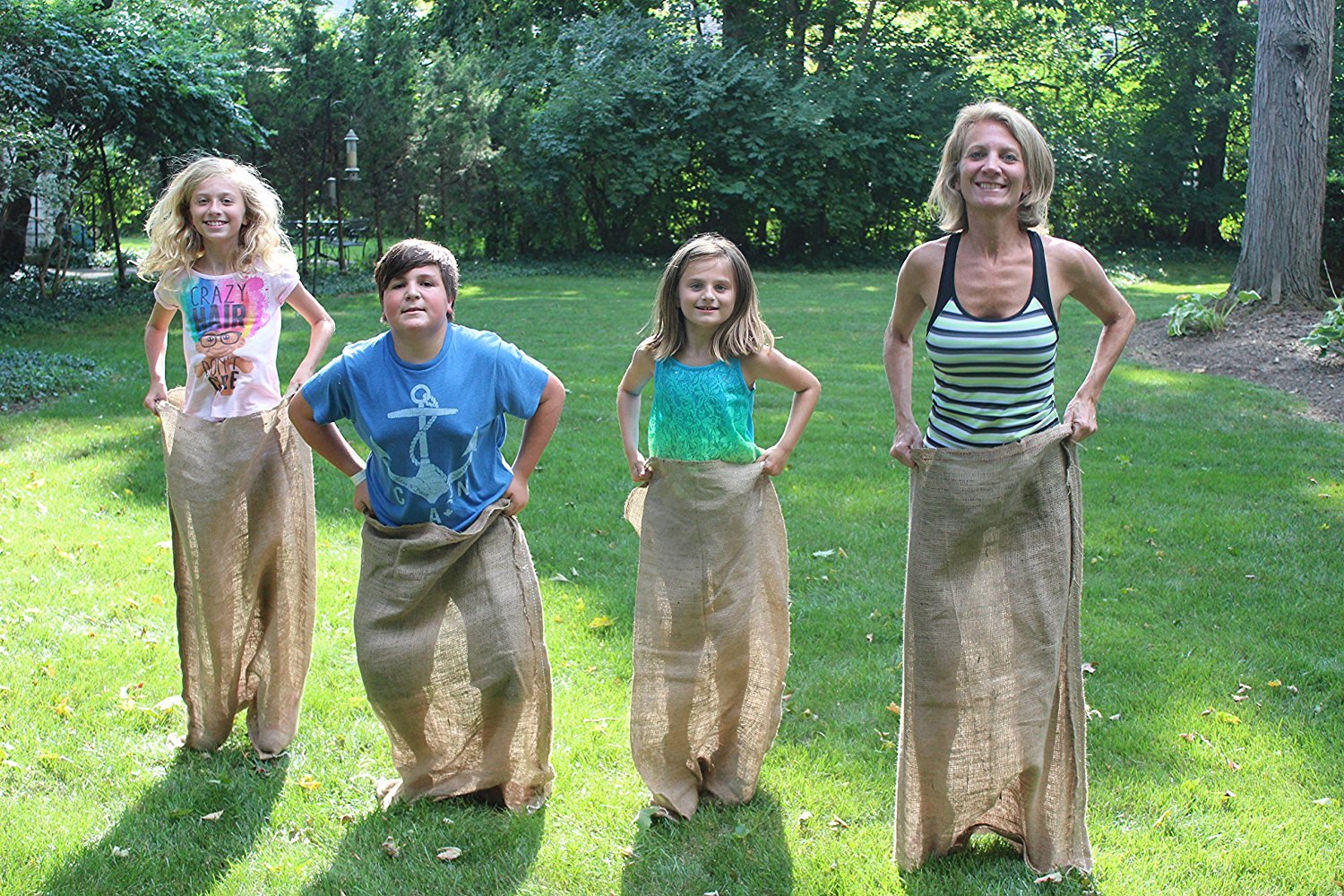 Burlap Sacks on Amazon can be found here
Bunny based board games can be great fun too, Im a big fan or board games and how a good game can bring everyone together. My favourite in this list in Bunny Kingdoms.
Party Ideas
Now all of the ideas we have shared so far can be used for a birthday party or just to have some fun at home. Now we are going to cover some items that are just for birthday parties. Lets start with these brilliant new Peter Rabbit Party invites, now available in our invitation library. When you book a birthday party with us you get free party invitations sent to you for free but fear not you can always just purchase any design you like as a instant download for just £1.99 each.
Party Invitations
Wonder Kids now has an ever growing range of Party Invitations. All of these Party invitations are designed A5 size.
View the full range in our Party Invitation Library
No physical products will be shipped, you are purchasing a digital file which will be emailed to you after you have paid.
This digital download can be printed from home or forwarded onto an online printer to print such as Vista Print or Solopress.
If you are organising a Peter rabbit birthday party than you will need a brilliant cake to go with everything else, take some inspiration form the cakes below and then use our Party Planner to get in touch with local bakers to get it made.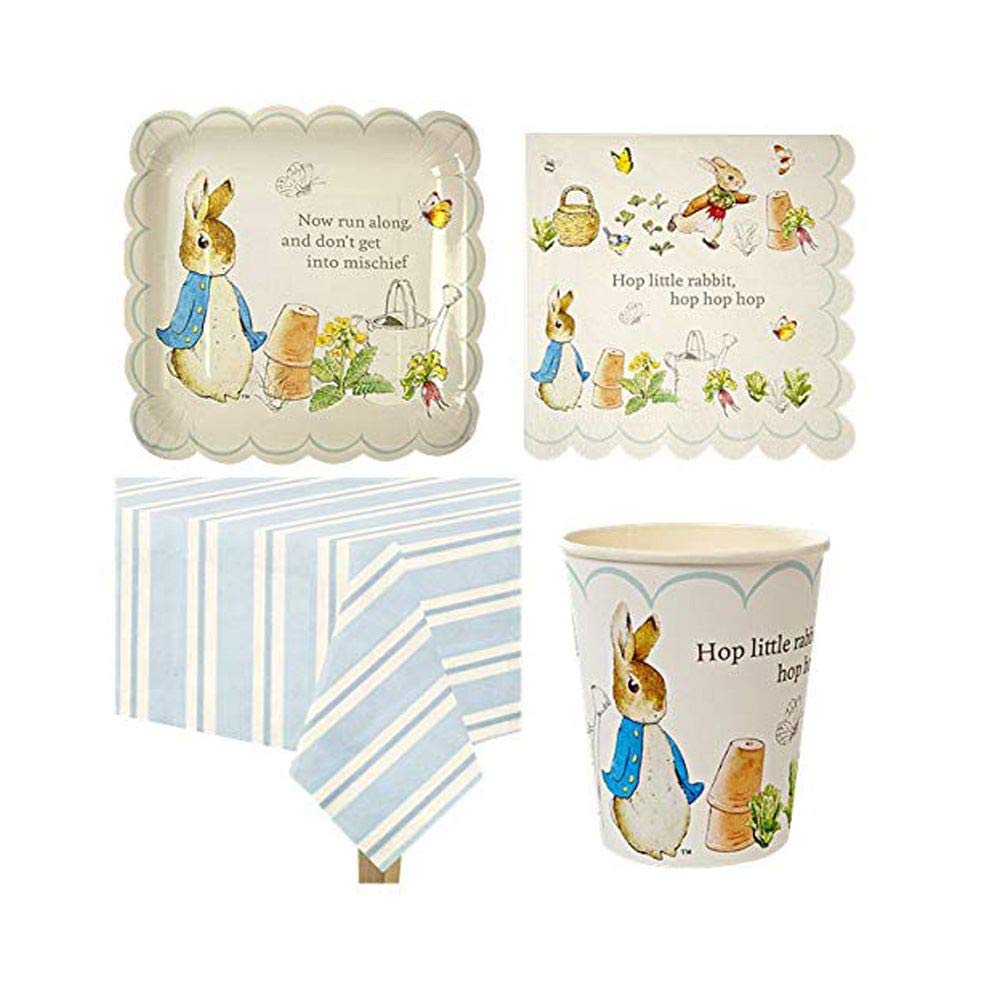 Food Ideas
Last but not least we need some great ideas that can be used at home for a fun day in or maybe some great party food too. here we go.
Bunny in the hole
You will need a bunny cutter like the one I've linked to below, Heat oven to 400 degrees F and line a baking sheet with parchment paper. Spread both sides of each slice of bread with butter. Cut out bunny face shape in the center of each piece of bread and transfer slices and cut outs to prepared baking sheet. Fill each hole with one egg. Bake until whites are just set, 7 to 9 minutes. Cut chives into 2-inch lengths and place three on each side of yolks for whiskers.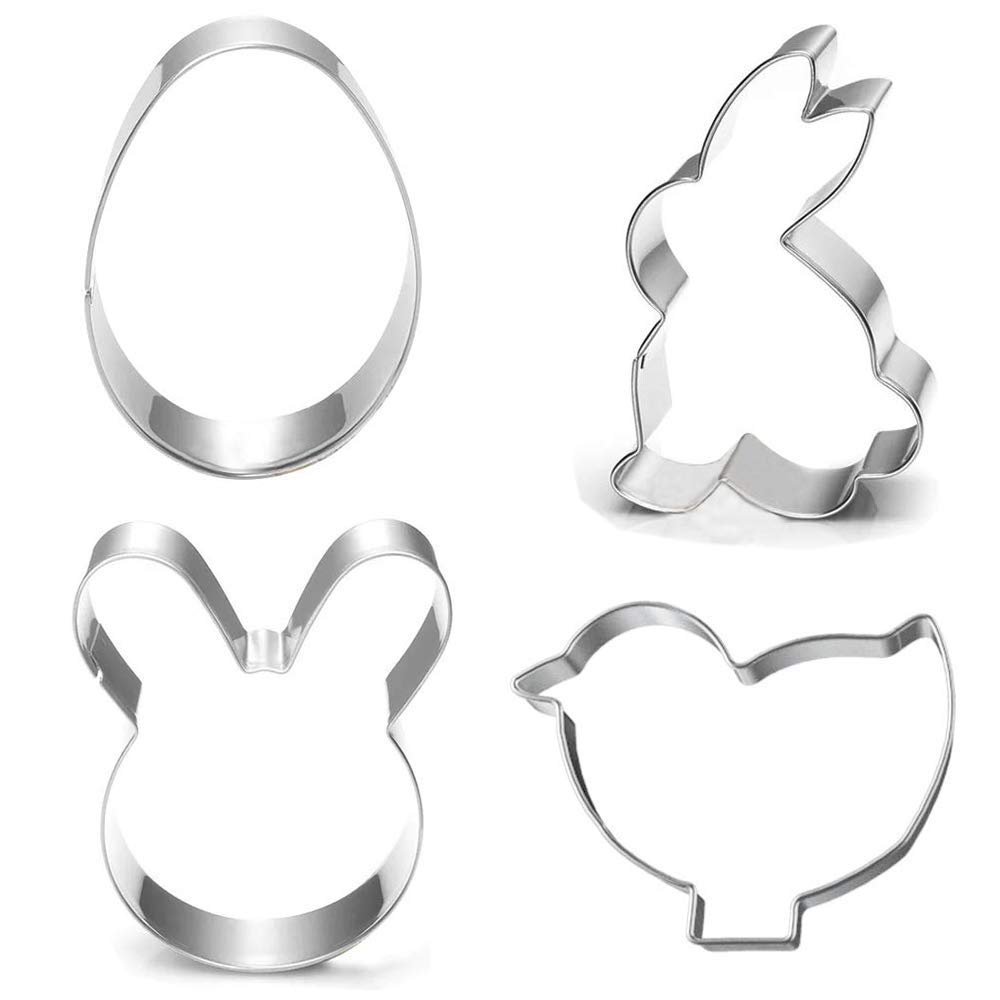 Bunny Snack Mix
A super easy treat, great for watching Peter rabbit or for a rabbit themed birthday party treat. You'll just need four ingredients, mixed in a bowl and served in individual dishes or cups.
3 cups popcorn

1 cup bunny pretzels

1 cup chocolate bunny graham crackers

1 cup M&M's
These are super tasty and give you another use for the bunny cutter set shown above. First you will need to mix the cheese spread mix. Mix the cream cheese with the grated carrots, chives and parsley. taste it and add salt and pepper if needed. Cut out the shapes from your bread, spread the mixture on one bunny side, add a thin slice of cucumber on top and serve.
Ingredients
1 loaf of extra thin sliced bread

8 oz Cream Cheese, softened

⅓ of an cucumber

3 TBSP finely shredded carrots

½ TBSP fresh chives, finely chopped

½ TBSP fresh parsley, finely chopped

salt and pepper, to taste
Veggie Lettuce Wraps
Ingredients
6 baby gem lettuce leaves

Seasoned black beans:

1 regular can black beans

1 tsp cumin

1 tsp chili powder

salt and pepper to taste

Roasted sweet potato:

1 large sweet potato peeled and small diced

salt and pepper

olive oil

Toppings:

2 radishes

1/2 cup fresh cut pineapple

1/2 avocado diced

1 jalapeño finely sliced

1/4 cup coriander chopped

1 red bell pepper sliced

rice optional

Sweet Chile Soy Sauce
How to make
Preheat oven to 425 degrees. Toss sweet potatoes with salt and pepper and enough olive oil to lightly coat them and roast until tender, stirring occasionally (about 20-30 minutes depending on dice size).
Warm black beans and season.
Construct the lettuce cups by laying ingredients as pictured. serve immediately. Can be served with boiled rice and sweet chilli sauce.