Here we go with another brilliant new theme for us to explore. It's taken a while for me to get this up and that's because this film really inspired me. I have had so many people calling us up wanting to provide a Greatest Showman Party for their little ones but it's really not Wonder Kids style. We don't jump on the bandwagon for every hit film that comes out, You'll never find me dressing up as Spiderman, Batman or Aquaman, I won't dress up like a wizard, astronaut or Elsa!
I love being inspired and I took loads of inspiration from this film and that old school circus vibe. I like to take inspiration and run with it to create something new and unique. Here I am a few years back presenting my take on spinning plates, this gets a brilliant reaction at parties.
I loved that feeling of the old circus vibe from this film and the feeling that anything is possible. I ended up creating a brand new party concept I've called Wacky Disco's. I can't wait to get them out in the real world and start getting videos and pictures from them. It all starts off like any disco, the lights and music are there, we'll play loads of great games for the first half of the party and then out comes the challenge wheel. The kids get an opportunity to spin the wheel, where it stops no one knows! Hit the logo below for more details.
Lets kick off with some great free colouring pages with a greatest showman/circus theme. Just click on the ones you like to print them out.
Games
You will need loads of great games if you are going to be running a Greatest Showman Party this year.
Fish Cup Game
Supplies for DIY Fish Cup Game:
24 - 36 (or more) 9 oz clear plastic cups (found at most grocery stores)
12 (or more) Squirt Fish
Ping Pong or Table Tennis Balls (12 and more are best)
Table to hold cups with water
Plastic pitcher to fill cups with water
Blue material or tablecloth or food coloring to tint water (optional)
Mini pails to hold Ping Pong Balls to hand to carnival players to play the game
Stand Behind Lines (so kids are not too close to the game)
Carnival Prizes - consolation and top carnival prizes - fish themed prizes are really cute in this game! (See Ideas Below!)
Game Setup:
In searching, we could not find really inexpensive fish bowls and found that clear plastic cups did a great job at a fraction of the price! We recommend keeping the game "fish friendly" and only using pretend fish for the plastic cups!
Before the carnival, set out at least 36 cups and fill with water. Make sure they are a few inches apart on the table - do not place them right next to each other or this game will be too easy!
Next choose about 8 colorful squirt fish to add to just 8 of the clear cups. (see our example above.) In order for fish to sink to the bottom, immerse them into the water and squeeze them to release the air bubbles that will fill the fish with water. Your squirt fish should sit on the bottom of each cup for your game.
How to Play the Fish Cup Game Game:
Players are given 3 table tennis balls to try their chance at getting a ball into a cup with a squirt fish in the bottom.
The only way to win this game is to have one or more of your table tennis balls land into a cup holding a fish!
How Players win a Prize:
No Balls into cup with Pretend Fish = Consolation Prize
One or More Balls into Fish Bowl with a Pretend Fish = Top Prize
Crazy Hats
4 Assorted Felt Pipe Hats (see below)
1 Gallon Water (or Milk Jugs) with lids - filled with water
4 (or more) Small - Medium Hula Hoops
Stand Behind Lines - (we used plastic cones) sidewalk chalk also works on concrete - or painters tape works well if set up indoors
Assorted Prizes*
4 Prize Buckets or baskets to hold each prize
* Typically 4 different prizes are chosen - 2 consolation type, 1 medium and 1 top prize. Each prize corresponds to a different hat. (see examples below)
Game Setup Before the Carnival:
Preparation for this game is simple.
First you place your water jugs about 2 and 1/2 - 3 feet apart in a straight line behind your designated "stand behind" line area. Next, add the StovePipe Hats on top of each jug of water and your "stand behind" lines and your game is ready to roll!
As far as the prizes, each prize coordinates to how many hats are "looped". So mark your prize buckets with "Green/White Striped Hat Prize", "Red/White Striped Hat Prize", "Blue/White Striped Hat Prize", Rainbow Striped Hap Prize".
Like all games, we recommend that you have some different "stand behind" lines if you anticipate children of all different ages playing your game.
For example, is is ideal to allow preschool children to stand a little closer and/or for older children (like 4th and 5th graders and up) have a line a few feet back.
Of course, if this game is for a group of teenagers one line would be fine.

How to Play the Crazy Hats Carnival Game:
The goal of this game is to loop all 4 colorful hats, in order, with the 4 small Hula Hoops.
Each player is given 4 hula hoops with the opportunity to "hoop" each hat in order. Carnival players use their first hula hoop to toss it over the hat to win the first prize. Note: If they did not hoop the first hat, they can try with the second hoop to ring the first hat.
Next, they use their next hula hoop to try to loop the next hat until they are out of hula hoops.
When each carnival player is done, they receive prizes for each hat that was hooped!
Tin Can Toss
You can use real tin cans, cleaned and wrapped with striped paper. Have the kids throw either a tennis ball or a juggling ball at them. This version is a little easier to set up. For the balls try ping pong balls again. They will knock the plastic cups over but its much harder to hit them alternatively use the hollow ball pit balls, nice and big but really light weight and quite difficult to throw.
I love this idea, you normally see a game like this at halloween but it works brilliant for this type of party too. Decorate a cardboard box. Ideally you want a box with some sort of door on the front. Have a child stand behind the box and reach inside to guess what the item is. You are only limited by your imagination. I would make the first few attempts easy and then start to bring thins out like slime or a tin of spaghetti hoops etc.
Before we move on, try getting a candy floss machine like the one below, they are not too expensive and the kids will love watching it being made and eating it fresh (so to speak).
Candy Floss Machine £33.99
Party Ideas
Now we are going to share some nice decoration ideas, party invitations and some birthday cake inspiration.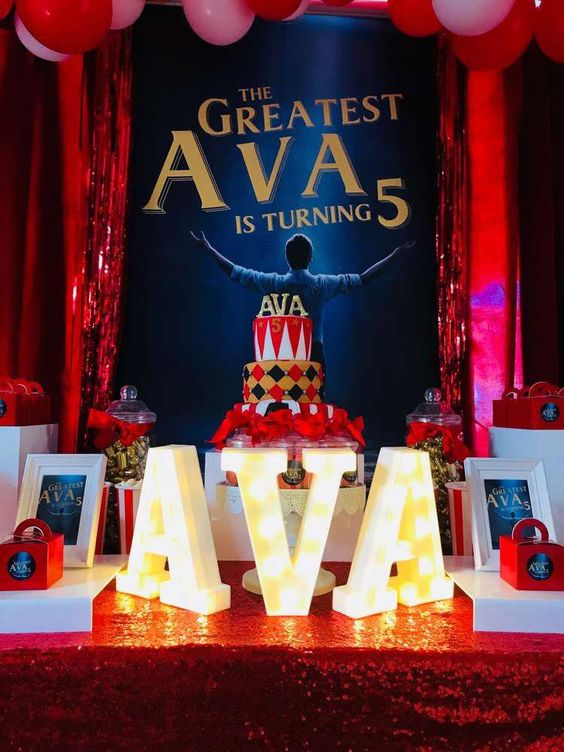 Using light up letters, great use of these led letters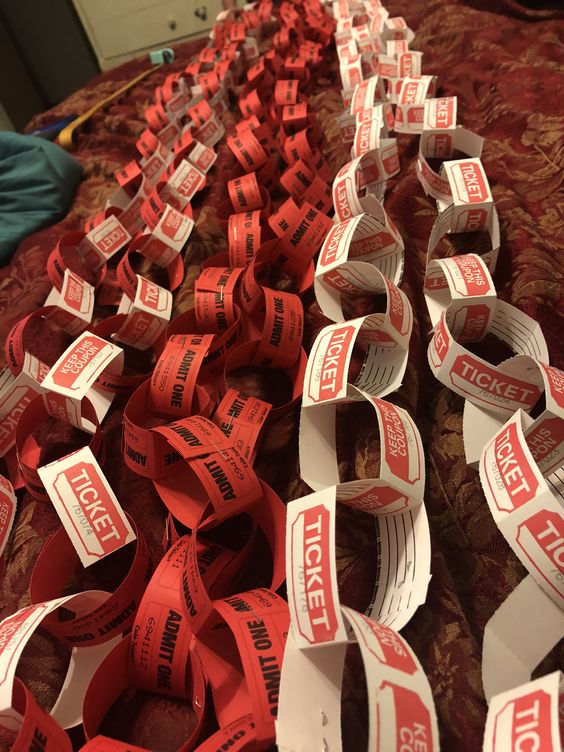 Create paper chains out of tickets, use arcade tickets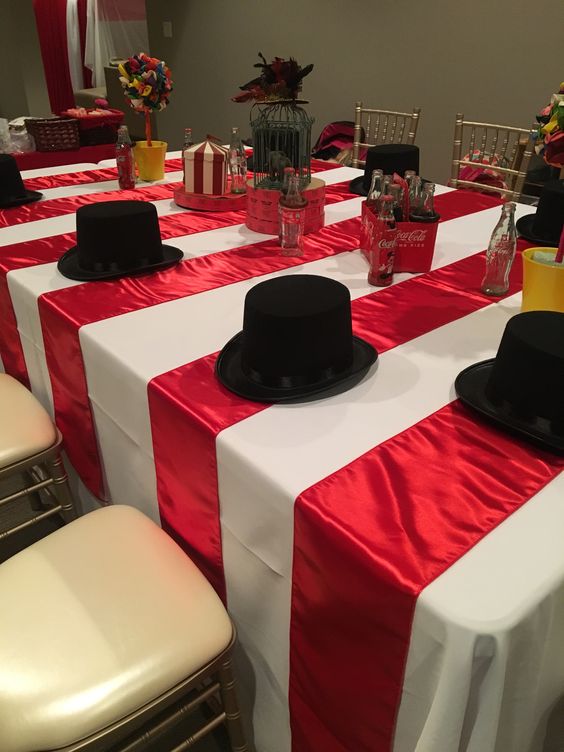 Using different coloured table cloths to create a strip effect
You don't have to use really expensive materials like shown in the picture above to get a party food table that looks great. You can use big rolls of coloured table covering which is made out of a stretch plastic. We cover this in our Birthday Party Planner here.
We have also added a brand new circus themed design to you Party Invitation library. We can post these out to you free of charge when you book one of our birthday parties but fear not they are also available as an instant download at just £1.99 each.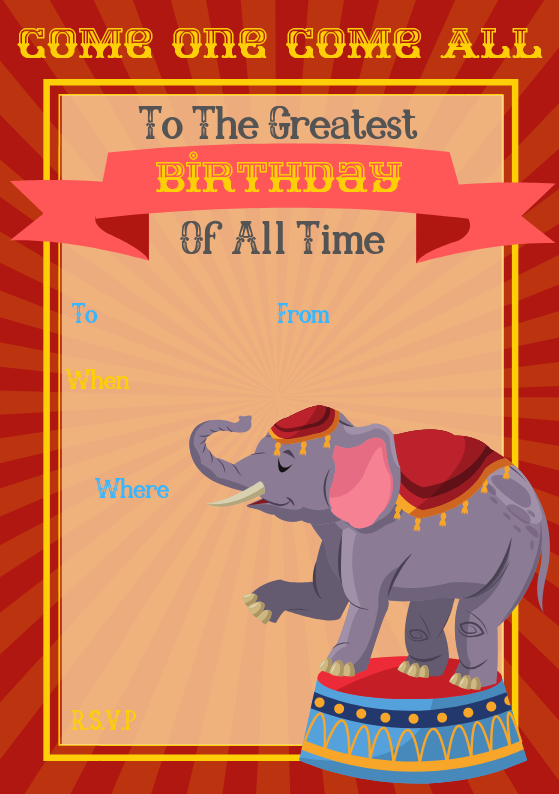 Check out our library here
Party Invitations
Wonder Kids now has an ever growing range of Party Invitations. All of these Party invitations are designed A5 size.
View the full range in our Party Invitation Library
No physical products will be shipped, you are purchasing a digital file which will be emailed to you after you have paid.
This digital download can be printed from home or forwarded onto an online printer to print such as Vista Print or Solopress.
Cake inspiration, take a look at the cakes below, all of them fit the theme and obviously some are going to be more expensive to make than others. If you are having a party in Gloucestershire then make sure you get in touch with the local suppliers we have listed here.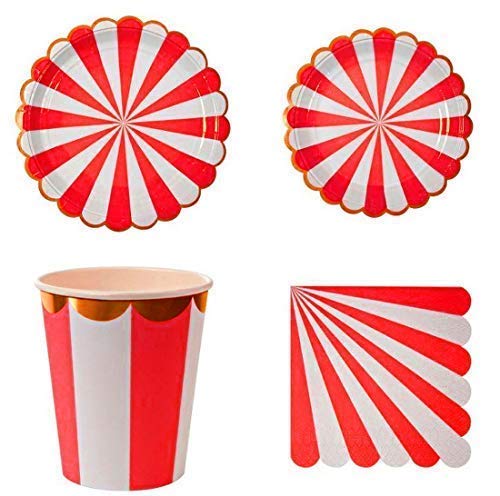 Striped party tableware on Amazon for £13.99
Food Ideas
We already have some candyfloss above so we need a great popcorn to match it. We are going to share our circus popcorn and some mini corn dogs , both of these are easy and will go down a treat. First though how about some fun food labels that you can use for little snacks. Just click on the buttons below to download the free labels.
Circus Popcorn
Use your favourite popcorn, sweet or salty maybe even a mix and then add blue and yellow M&M's plus blue and yellow hundreds and thousands. The kids will love this.
Mini Corn Dogs
Ingredients:
1/4 cup cornstarch

2 packages (7 links) hot dogs, cut into thirds * I used Hebrew National…YUM!*

bamboo skewers – leave them long and pointy…Live dangerously!

2/3 cup all-purpose flour

2/3 cup cornmeal

1 teaspoon baking powder

1 teaspoon baking soda

1/2 teaspoon salt

1/4 teaspoon cayenne

1 ear of corn, grated on a box grater

1/4 cup grated onion

1 large egg, beaten

2 teaspoons honey

1 cup buttermilk
Roll hot dog pieces in a light coating of cornstarch and skewer. Set aside.
In a medium, high sided sauce pan, heat 3-4 inches of oil to 350°F. Line a baking sheet with paper towels for draining.
In a large, deep bowl, whisk together flour, cornmeal, baking soda, baking powder, salt, and cayenne. In a large measuring cup, mix together corn, onion, egg, buttermilk, and honey. Add to the dry mixture and stir to combine. Dip cornstarch coated hot dogs in batter and fry in batches–4-6 pops at a time–until coating is deep, golden brown. Remove from hot oil and drain on paper towel lined pan. Enjoy warm with desired condiments.
Thats it for this week but make sure you come back next week for another great theme explored.